Words Wednesday: Viet Thanh Nguyen
It's Words Wednesday!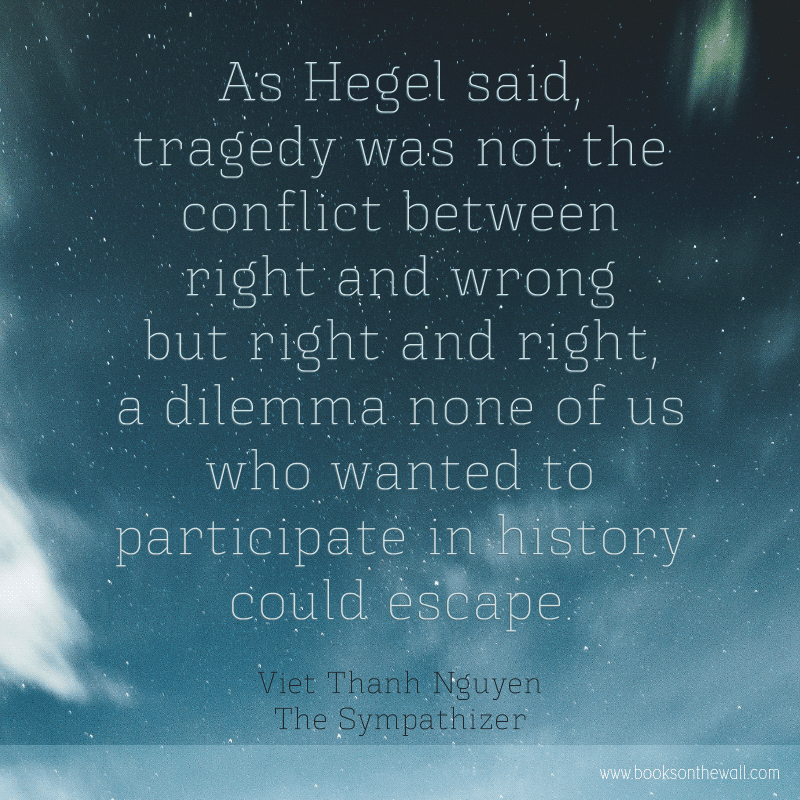 For today's Words Wednesday, we're featuring a recent Viet Thanh Nguyen quote from his 2016 novel, The Sympathizer.
The Sympathizer (2015) by Viet Thanh Nguyen
Published in 2015, The Sympathizer is the debut novel of Viet Thanh Nguyen, a Vietnamese American professor of literature.
The novel follows the story of an unnamed narrator who works as a North Vietnamese mole in the South Vietnamese army. After the fall of Saigon, the narrator is moved to Los Angeles, where he continues his spying work in the city's close-knit Vietnamese community. Often called "a man of two minds," the narrator struggles with this identity and role in his country's struggle for freedom.
Themes
This unique novel combines many different genres into one complex, sometimes-difficult-to-read, but always entertaining story. Drawing themes from classic immigrant stories, political fiction, dark comedy, and archetypal spy novels, The Sympathizer creates a story that feels both familiar and new.
Just a few of the themes explored include:
Identity
Patriotism
Education
Social class
Loyalty
Morality
Choice
The novel's set-up, in which the story is told as part of the narrator's forced confession, adds another layer of complexity and interest.
Reception
Aside from its witty and intricately crafted prose, many reviewers have noted the importance of The Sympathizer within the overall canon of literature about the Vietnam War. Unlike many notable books (think The Quiet American by Graham Greene), The Sympathizer is told by a Vietnamese character in his own voice.
The Sympathizer won the 2016 Pulitzer Prize for fiction, along with a host of other accolades:
2016 Dayton Literary Peace Prize
2016 Carnegie Medal for Excellence in Fiction
2016 Edgar Award for Best First Novel
2015 Center for Fiction First Novel Prize
2015 Asian/Pacific American Award for Literature
The Sympathizer quote
We Marxists believe that capitalism generates contradictions and will fall apart from them, but only if men take action. But it was not just capitalism that was contradictory. As Hegel said, tragedy was not the conflict between right and wrong but right and right, a dilemma none of us who wanted to participate in history could escape. The major had the right to live, but I was right to kill him.

-Viet Thanh Nguyen quote, The Sympathizer
Watch and hear from Viet Thanh Nguyen
For more information about this novel and its background straight from the author himself, watch his interview with Maxine Hong Kingston:
Recommended For You