One Hundred Years of Solitude: The Book and Characters [Data Visualization]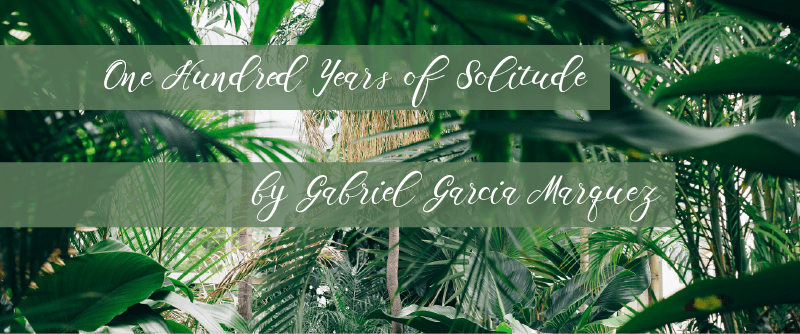 A few weeks ago, we shared a blog post about the history of magical realism.
Today we're taking a deeper look at perhaps the greatest and most beloved of all magical realism novels: One Hundred Years of Solitude (Cien Años de Soledad) by Colombian author Gabriel Jose Garcia Marquez.
The classic example of magical realism
Although many critics may have trouble defining what exactly a magical realist novel is, their prime example will always be Marquez's beloved One Hundred Years of Solitude.
First published in 1967, One Hundred Years of Solitude is a long and dense work. The novel can be a bit confusing for first-time readers, especially those not comfortable with markers of the magical realist genre.
Not sure what those markers are? Here are just a few common magical realist traits:
Extreme narrative jumps in time and place
An apparent lack of importance placed on traditional plot structure and logic
The casual mixing of fantastical elements in a real-world setting
An "indifferent" narrator, one who treats fantastical events no different than everyday ones
Implicit criticisms of societal elites, social structures, and political realities
In addition to these characteristics of magical realism, one of the most uniquely difficult aspects of One Hundred Years of Solitude is its sheer number of characters—and their similarities, both in personality and in name. 
The novel tells the story of many generations of Buendías, a family who lives in a fictional Colombian town called Macondo. Confusingly, most of the characters share the same last names, the children are named after parents and grandparents, and several uncommon interfamilial relationships come into play.
How the Buendías are related
It's nearly impossible to keep track of all of the characters in One Hundred Years of Solitude unless you print out a family tree and tape it to your book.
If you're one of those people who would never dog-ear a book (let alone tape anything to it!), here's a computer-friendly representation of how all those Buendías and non-Buendías are related.
The darker colors represent the earlier generations of characters, with the shades becoming increasingly lighter as we move through the younger generations. (The story's patriarch, Jose Arcadio Buendía, appears in the darkest blue.) Romantic relationships are designated by a dashed line, while parent/children connections are denoted by a solid line. Hover over or click the key in the legend to highlight all of the Buendía family or all of the non-Buendías. You can click and drag specific character circles to move them around the graph, and hovering over a specific circle will highlighting all of the characters connected to that circle.
Complex readings of characters in One Hundred Years of Solitude
One Hundred Years of Solitude is a beautiful, rich, layered novel. There are multiple levels of interpretation and symbolic reading, each of which is reflected in the various characters of Macondo.
All at once, the novel is:
A personal history of the Buendía family

A narrative of the fictional town of Macondo
A political and social commentary on the history of Colombia
A chronicle of Latin America
A reflection on individualism and the cyclical nature of history
When examining the characters of One Hundred Years of Solitude, it's important to take all of these levels into account and consider the characters symbolically, perhaps as representations of different stages in the cycles of time.
Úrsula Iguarán and José Arcadio Buendía
Here are some speculations on just two characters to help you think about some fresh ways to interpret this novel.
For example, consider Úrsula Iguarán, the matriarch of the family and wife of José Arcadio Buendía. She helped lay the foundation for the family dynasty for 150 years and serves as a foil for successive generations. The decadence and laziness of all future generations can be contrasted with Iguarán.
Does this mean Marquez sees time cyclically? Or as a downward spiral?
Another interesting character to read symbolically is the family patriarch José Arcadio Buendía. Buendía begins his life as a visionary for his town of Macondo, but he ends up as a madman tied to a chestnut tree. Buendía could be said to prefigure the sufferings of future generations. In this sense, Buendía could be read as foreshadowing, or perhaps even dooming, the rest of his family who follows.
What does this say about the influence of the past on the present? And the future? 
Reality vs. illusion
These two examples of character analysis in One Hundred Years of Solitude illustrate just how rich and complex this novel is. And these are just two interpretations of two characters!
There are endless ways to think about each character and what he or she means not only to the Buendía family but to the novel's overarching themes of memory, time, and illusion.
Beyond the characters, it is quite difficult to tell the difference between magic and reality in this book. Although there are many events that really did happen in Colombia's history (for example, American intervention and colonialism, the Thousand Days' War, and issues surrounding the United Fruit Company), there are many supernatural elements as well.
Through his complex characters and profound meditations on time and history, Marquez shows the world in a completely new and awe-inspiring light. He pulls away from the linearity of time and the nature of causality.
As The New York Times Book Review says:
It is not easy to describe the techniques and themes of the book without making it sound absurdly complicated, labored and almost impossible to read. In fact, it is none of these things.
It's true: perhaps the best way to understand what One Hundred Years of Solitude is—and by extension, what magical realism is—is to read it yourself.
Life and Death of Gabriel Garcia Marquez
Gabriel Garcia Marquez (1927-2014) remains perhaps the most famous Latin American writer in the world after Jorge Luis Borges.
Here are some interesting facts about Gabriel Garcia Marquez you may not have known:
He is often known as Gabo or Gabito throughout Latin America.
He began his writing career as a journalist in Barranquilla, Colombia.
His first work, a novella entitled Leaf Storm (La Hojarasca), took 7 years to find a publisher.
He won the 1982 Nobel Prize in Literature.
Marquez was very close to Cuba's former President Fidel Castro, who even served as his editor at times.
Gabriel Garcia Marquez passed away just a couple of years ago in 2014, and the literary world grieved. Here's a brief video talking about his accomplishments and impact on the literary world:
If you like Marquez's work after reading One Hundred Days of Solitude, other books by Gabriel Garcia Marquez worth checking out include Love in the Time of Cholera, Autumn of the Patriarch, and Chronicle of a Death Foretold.
Recommended For You