John Steinbeck's East of Eden Quote: Perfect and Good [Quote Graphic]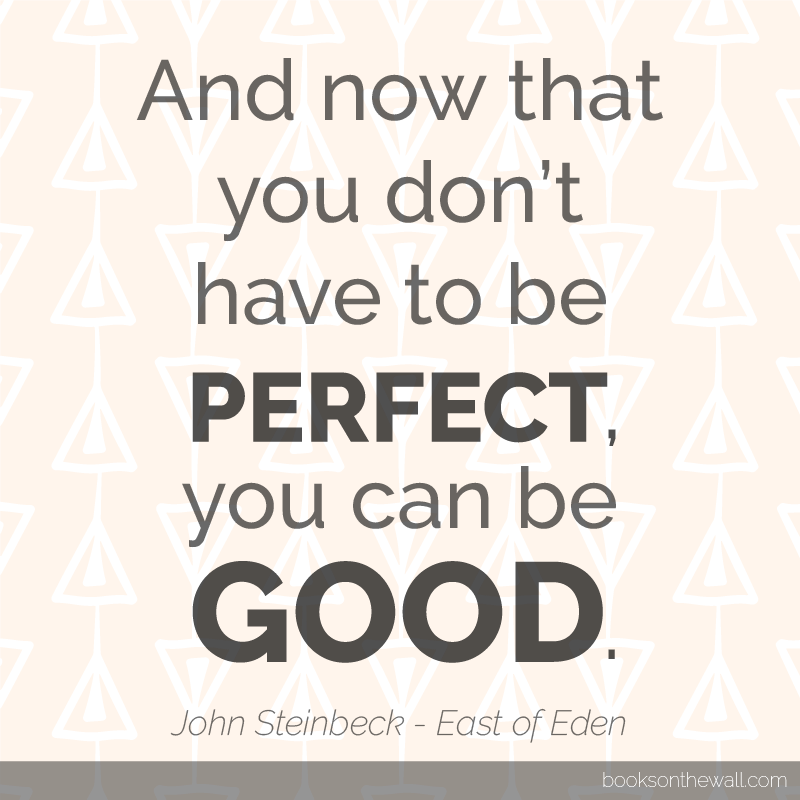 This John Steinbeck quote comes from his 1952 novel East of Eden.
East of Eden by John Steinbeck
Published in September 1952, East of Eden follows several generations of two families whose stories intertwine: the Trasks and the Hamiltons. Set in the Salinas Valley of Central California, the setting is as much a character as any person in the novel.
The story begins on the ranch of Irish immigrants Samuel and Liza Hamilton. While their land is notoriously infertile, the nearby lands are lush and productive—and it's these lands that purchased by the wealthy stranger Adam Trask. Adam moves to the land with his new wife Cathy, a woman he loves despite her "malformed soul." After she gives birth to twins Cal and Aron, she flees the home. The rest of the story follows their lives, including their search for their mother, their betrayals, and the deaths of those around them.
Themes
East of Eden draws on several themes throughout the novel, including:
Family
Love
Acceptance
Self-destruction
Forgiveness
Guilt
Freedom
The novel is heavily centered on the Biblical story of Cain and Abel. This story is even reflected in the many character pairs with names beginning with As and Cs: Charles and Adam, Cal and Aron, and Cathy and Abra.
Reception
The Biblical allusions are so strong that many contemporary critics found the novel to be heavy-handed, overbearing, and excessively moralistic. The New York Times, for example, found the novel to be "clumsy in structure and defaced by excessive melodramatics and much cheap sensationalism."
Though many critics panned East of Eden, the reading public loved the book. It instantly became a bestseller and remains one to this day.
John Steinbeck quote
For those who may not remember this John Steinbeck quote, here's a bit of the surrounding context. This quote comes from an exchange between Lee, the Trask family's cook and close friend, and Abra, the girl whom Aron decides to marry at a young age:
"You are changed," said Lee. "You aren't any part a little girl any more. Can you tell me?"

"I burned all of Aron's letters."

"Did he do something bad to you?"

"No, I guess not. Lately I never felt good enough. I always wanted to explain to him that I'm not good."

"And now that you don't have to be perfect, you can be good. Is that it?"

"I guess so. Maybe that's it."

-John Steinbeck, East of Eden
Recommended For You