Jane Austen: Great Britain's Greatest Novelist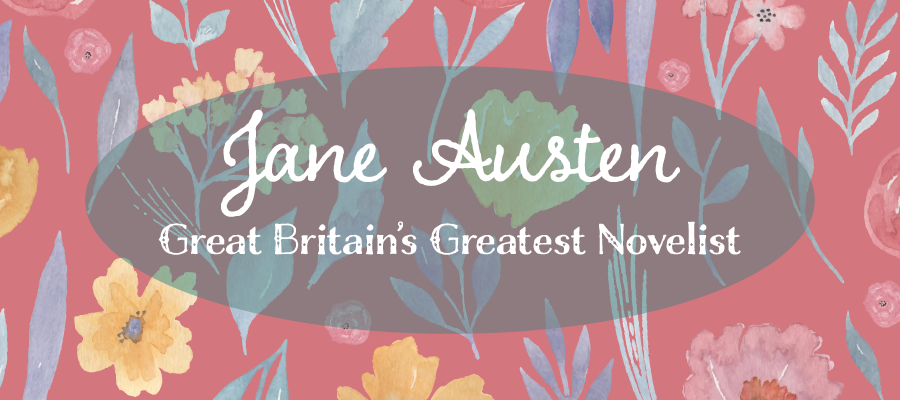 The British novelist Jane Austen only published four novels during her brief lifetime. Despite the rather small oeuvre of Jane Austen novels (six major novels, including two posthumously published works), nobody doubts Austen's status as one of the greatest writers in the English language.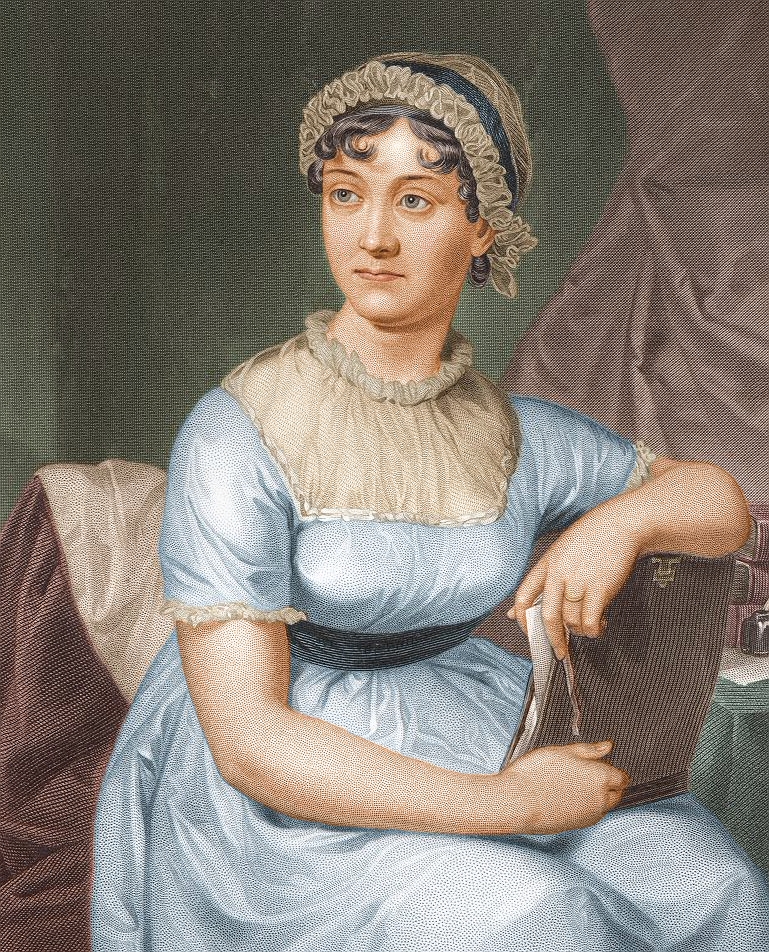 Portrait of Jane Austen, via Wikimedia Commons
Indeed, Austen is one of those rare authors beloved by both critics and the general public. It might seem strange that people in our technophilic 21st century would be at all interested in Austen's "novels of manners" set in Regency England. However, every time a new film based on an Austen novel is released, it almost instantly becomes a blockbuster.
Is the popularity of Austen's works nowadays due to a kind of nostalgia for a pre-industrial age? Is it that we enjoy Austen's memorable characters and insights into both romance and the nature of human perception? Heck, maybe we just enjoy the huge mansions, the elegant balls, the long gowns, and even the neckclothitania of Regency England.
Whatever reason you happen to enjoy Austen's fiction, you're sure to enjoy this quick look into Austen's life and literary legacy.
Jane Austen's youth, education, and early forays into fiction
Jane Austen was born to Cassandra and Reverend George Austen in 1775. In total, Jane had six brothers and one older sister. All of the Austen children grew up in a rectory at the town of Steventon, Hampshire County. Sadly, the rectory used by the Austens is no longer standing. However, tourists to the town can still imagine what it must've been like for the young Jane to grow up here.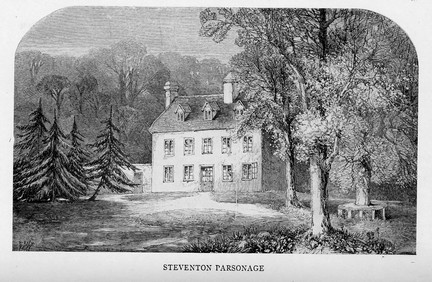 Steventon Rectory, via Wikimedia Commons
Although Jane didn't have a formal education, she was encouraged by her father to peruse the family library at her leisure. A few of the major authors on Jane Austen's reading list included Samuel Johnson, Henry Fielding, Robert Burns, and, above all others, Samuel Richardson.
Lady Susan
Most biographers believe Jane Austen began writing around 1787. Most of the texts that survive from this period are either parodies, juvenilia, or verse. The Austens would often gather together to perform plays for amusement, and Jane Austen would occasionally write and perform her own comedic sketches. One of the more important works from this time is the epistolary novel called Lady Susan, which was finished in 1794 and only published in 1871. This short novel tells the story of 35-year-old Lady Susan Vernon's attempts to seduce a second husband. While Lady Susan isn't considered a masterpiece, it's quite impressive considering Austen was only 19 when she completed it.
Northanger Abbey
Another intriguing work from Austen's early years is the novel Northanger Abbey, which was also published posthumously. Most likely finished in 1799, Northanger Abbey was mainly written as a parody of the Gothic thrillers circulating around England at the time.
This work has most of the traditional Gothic plot elements:
Castles
Hauntings
Hints of murder
Strange notes
Mystery
However, Austen deftly undercuts all of these expected elements by the end of the work. The main character in this novel, Catherine Morland, is an avid reader of Gothic tales. This addiction to Gothic fiction leads Morland to interpret the strange occurrences around her as elements of a Gothic plot.
Just like Austen's major works, Northanger Abbey raises serious questions about the nature of human perception. Austen is keenly interested in how our interpretation of the world around us can so easily be distorted by the things we read or the people we listen to.
Austen also completed first drafts of what would later be called Sense and Sensibility and Pride and Prejudice between 1796 and 1797. Her father tried unsuccessfully to sell the first version of Pride and Prejudice (called "First Impressions") to a London publisher. Perhaps this initial refusal to Austen's work was a blessing in disguise, because it forced Austen to revise and re-work "First Impressions" into the Pride and Prejudice we love today.
Jane Austen's love life…or lack thereof
Jane Austen died a virgin. There's no doubt about that. What scholars are still debating concerns the specifics of Austen's marriage proposal and other (questionable) love interests.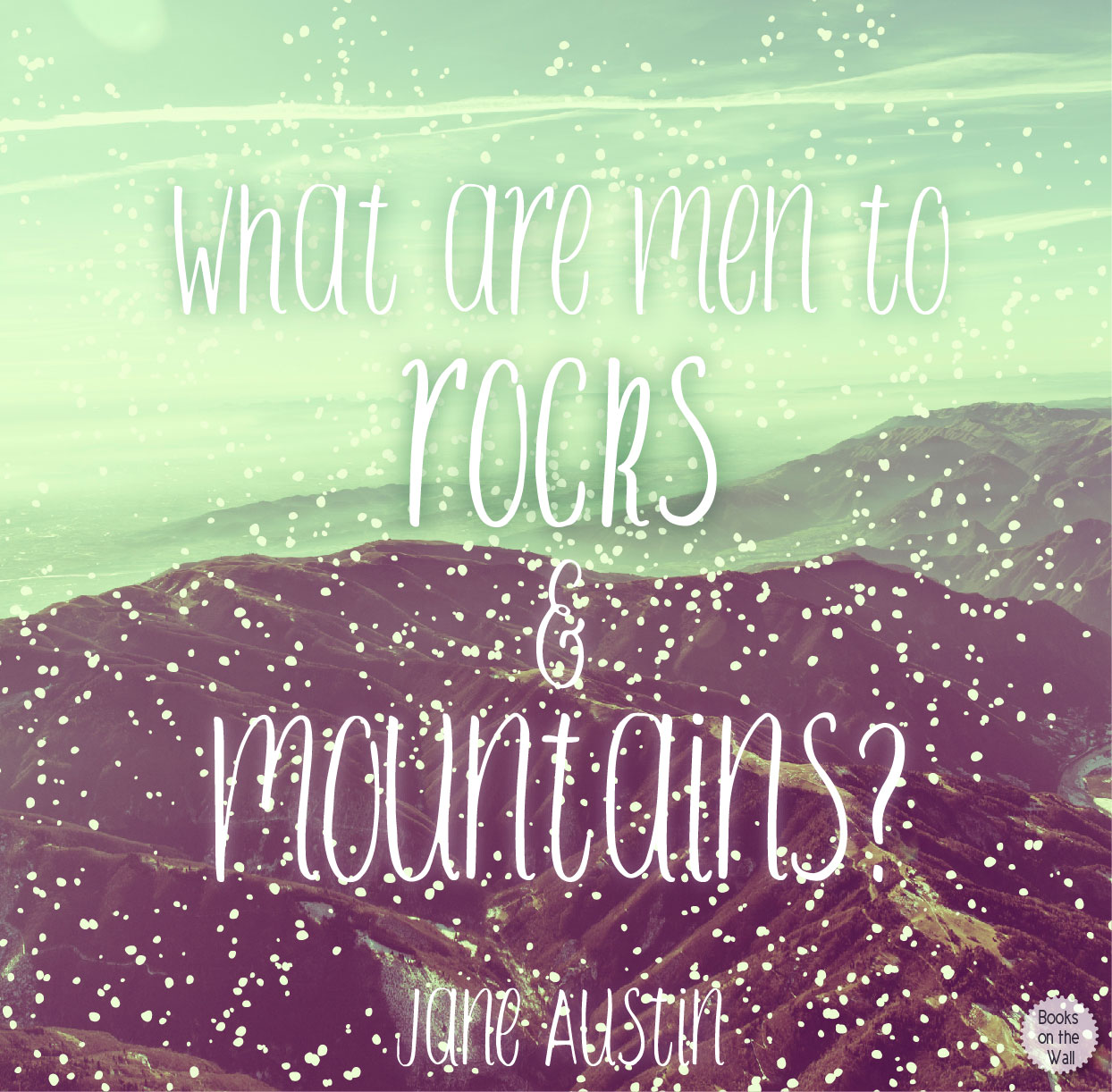 It's intriguing for literary critics how someone with relatively little experience with the opposite sex could produce such remarkable novels dealing with human relationships and romance. Unfortunately, Jane Austen's older sister Catherine destroyed many of Jane's more private letters. Without those letters, scholars have had to guess at the reasons behind Jane Austen's refusal to marry.
Most scholars agree that Jane Austen agreed to marry a man named Harris Bigg-Wither in 1802. Surprisingly, on the very day after proposing to Harris Bigg-Wither, Jane Austen abruptly canceled the wedding. Again, we don't really know why this is the case, but a similar abrupt marriage rejection appears in her last full novel Persuasion.
There's some scanty evidence that Jane Austen was in love with someone else who died prematurely. Again, since almost all of Austen's confidential letters have been burned, any new "evidence" that comes out on Jane Austen's love interests (like the hit movie Becoming Jane) should be taken with a grain of salt.
From calm to commotion: the Austens move to Bath
When George Austen turned 70, he decided to retire in the nearby resort town of Bath. Suddenly, Jane Austen was forced to give up the relative quiet of the English countryside and adapt to city life. This was one of the most distressing times in Jane's life. Indeed, readers can sense how much Austen loathed city life in her fictional depictions of Londoners and residents of Bath.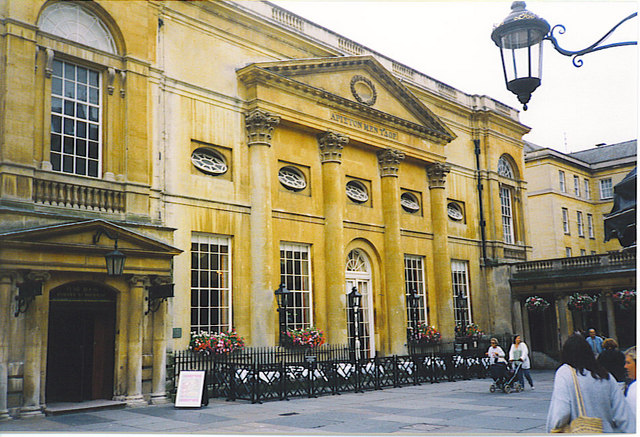 Grand Pump Room at Bath by Colin Smith, via Wikimedia Commons
 Jane Austen moved with her father, sister, and mother to different relatives' houses in cities like Clifton, London, and Southampton during this time period. Then, in 1805, Jane's beloved father passed away.
This chaotic episode in Jane Austen's life finally ended in 1809 when her brother Edward bought a cottage in Chawton. This cottage, which housed Jane, Catherine, and Cassandra, has become a pilgrimage site for Austen fans. The cottage is now called Jane Austen's House Museum and tour guides take visitors through the rooms in which Jane Austen composed her mature masterpieces.
Jane Austen novels written at Chawton
Once Jane Austen got settled in her new home, she instantly started revising both Sense and Sensibility and Pride and Prejudice.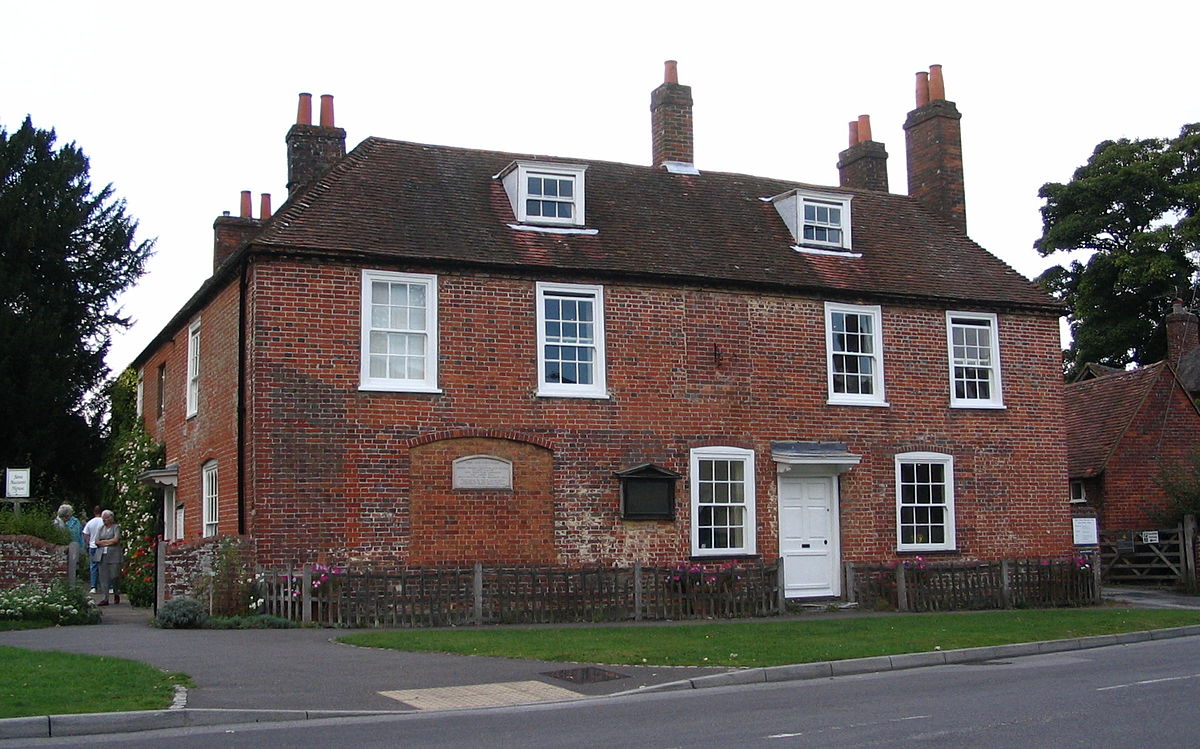 Jane Austen's house in Chawton, via Wikimedia Commons
With the help of her brother Henry, Jane Austen was finally able to get Sense and Sensibility published anonymously in 1811. This charming novel centers around two sisters, Elinor and Marianne. Elinor is the embodiment of good "sense," whereas Marianne has to learn to retrain her emotions (i.e. "sensibility") through the course of the novel. This first novel received high praise in the London newspapers for its wit, engaging characters, and good sense of morals.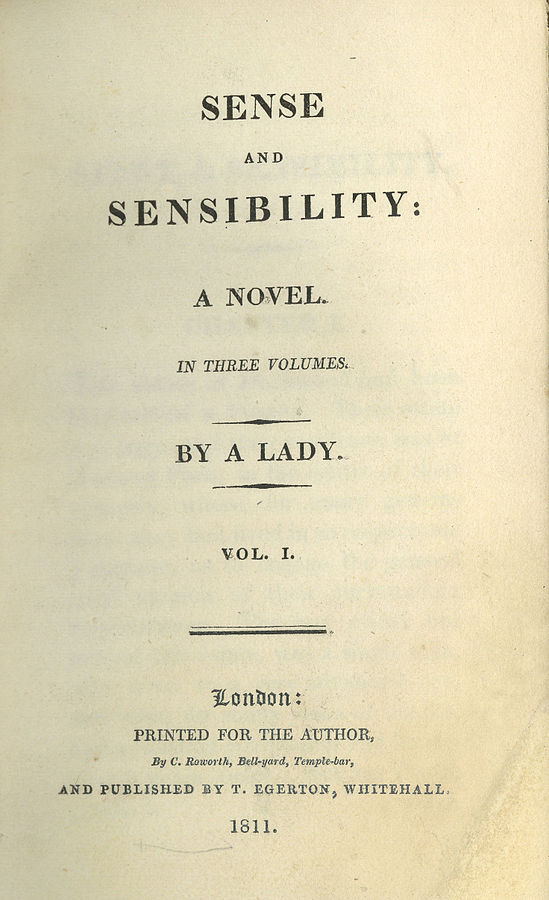 First edition of Sense and Sensibility, via Wikimedia Commons
Pride and Prejudice (1814)
Austen followed up Sense and Sensibility with what is perhaps her most famous work: Pride and Prejudice. The main plot of Pride and Prejudice follows the romance between the feisty country girl Elizabeth Bennet and the seemingly snobbish aristocrat Fitzwilliam Darcy. People admire the levity of this work and the numerous intricate subplots Austen uses to get Bennet and Mr. Darcy to connect.
This incredibly enjoyable novel has been entertaining readers ever since it was released in 1814, and its opening sentence remains one of the most popular in all literature. It's also one of the Jane Austen novels most adapted to film, with the most recent major release in 2005:
Mansfield Park (1814)
Austen's next novel, Mansfield Park, marks a turning point in the author's literary career.
Also published in 1814, this novel follows the story of the poor Fanny Price who is taken in by wealthy relatives in a grand English mansion. Many literary critics believe this is one of Austen's most intriguing and somber works. Interestingly, many readers have used this work to try and uncover Austen's political leanings. Underneath the glamour of Mansfield Park is the unsettling backdrop of both the French Revolution and the English slave trade. Also, it's quite easy to see Austen's low opinion of Londoners with her critical portrait of the Crawfords. While this novel may not be as "bright" as her earlier works, Mansfield Park is a critical favorite.
Emma (1815)
In Austen's fourth published novel, Emma, the author returned to a more traditional comic tone in the spirit of Pride and Prejudice. The protagonist of this work, Emma Woodhouse, is a wealthy woman who has no intention of getting married. Instead, Emma fancies herself a matchmaker. Unfortunately for everyone in her small town, Emma misreads the affections of those around her and creates a great deal of chaos.
Some readers believe Emma isn't only Austen's greatest comic work, but also that it's one of the finest comic novels ever written. As an interesting side-note, Emma was dedicated to George IV, who was a prince regent at the time and a great admirer of Austen's work.
Posthumous Jane Austen novels: Persuasion and Northanger Abbey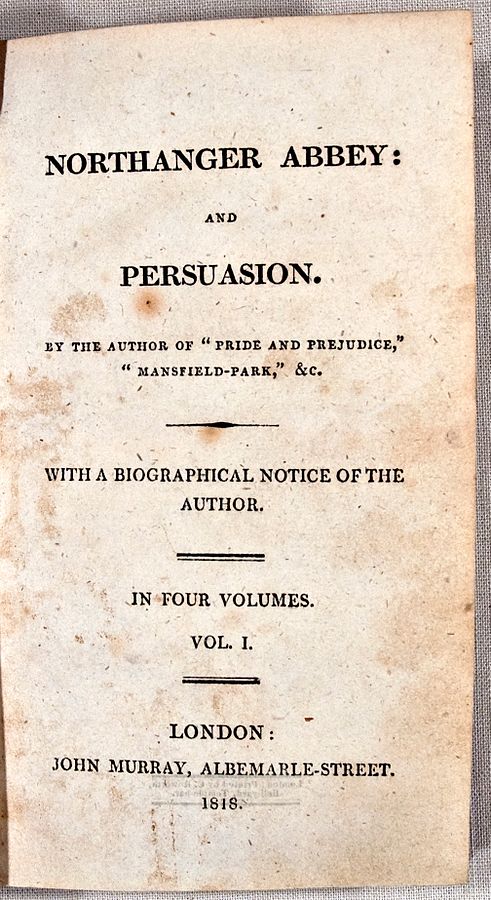 Northanger Abbey and Persuasion (1818), via Wikimedia Commons
Finally, Austen's last great novel, Persuasion, was published posthumously with Northanger Abbey in 1817. Many readers have noted that Persuasion has a kind of "autumnal" quality to it. Written while Austen was suffering from early symptoms of Addison's disease, the novel tells a tale of regret, deep longing, and redemption.
The wealthy Anne Elliot, 37, was persuaded to break off a marriage proposal to naval officer Frederick Wentworth eight years before this novel begins. As the novel opens up, we discover that Elliot's family has become almost bankrupt. Wentworth, on the other hand, has become rich. The big question driving this novel is whether or not Elliot will be able to persuade Wentworth to forgive her past rejection and start their romance all over again.
Austen's later life, death, and influence
Austen was working on a novel called Sandition in 1817, but she wasn't able to finish it. Her symptoms from Addison's disease became so bad that she started to compose her will in April. In July she passed away at the age of 41. She was buried in Winchester Cathedral, where church parishioners just celebrated 200 years since Austen's passing.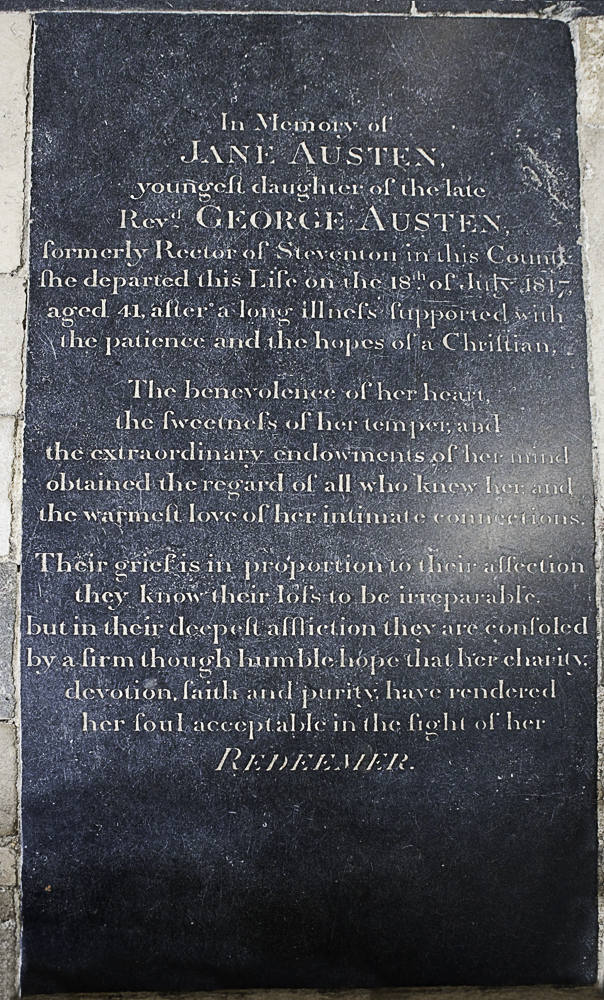 Jane Austen's memorial gravestone in the nave of Winchester Cathedral by WyrdLight.com, via Wikimedia Commons
Shortly after Austen's death, Henry revealed that his sister was behind all of the novels the English reading public so admired. Her fame has only grown exponentially since that time.
Austen's legacy
Austen is one of the founders of the modern psychological novel. Before Austen, most popular novels in England were either sensational or Gothic. Austen was one of the first to take ordinary people living in England as her main focus. Thus, Austen's novels are generally required reading for anyone who wants to understand 19th century English life. Her psychologically rich characters have inspired countless novelists who came after her, especially those in the Realist and Naturalist schools.
Several great authors are deeply indebted to Jane Austen's work:
Thanks to all of the film adaptations based on Jane Austen's work and life, Austen will most likely remain England's most beloved author (excepting Shakespeare) for a long time to come. 
Love Jane Austen novels? Check out our full-text Pride and Prejudice book poster!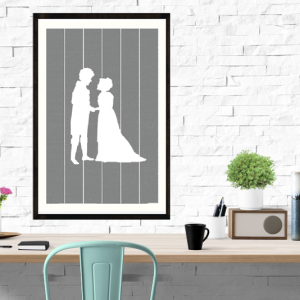 Recommended For You