Herman Melville's Moby Dick Quote: Maps and True Places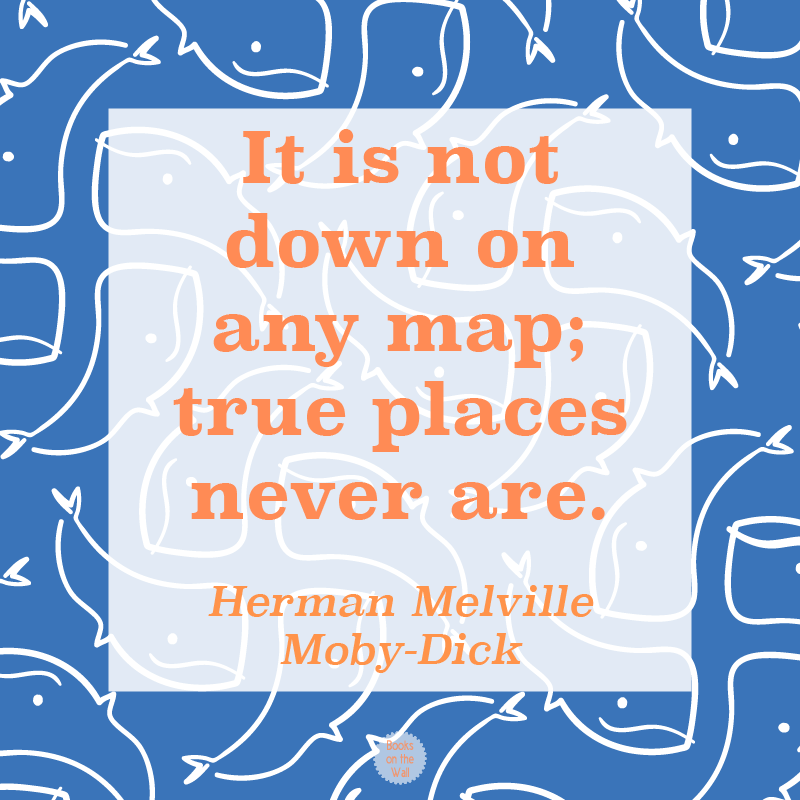 Today's Words Wednesday features a Herman Melville quote from his classic novel Moby-Dick; or The Whale.
Moby Dick by Herman Melville
Published in 1851 at the height of the American Renaissance period, Moby Dick follows the adventures of the mad whaler Ahab, captain of the Pequod. The novel was originally published in London as The Whale and then as Moby-Dick; or The Whale in New York. The book is dedicated to famed author Nathaniel Hawthorne.
Although the novel was originally not a commercial success (it was actually out of print when Melville died), it has become one of the most hailed books of all time. Alternately loved and hated for its long prose and seemingly endless descriptions of whale anatomy, Moby Dick has nonetheless become the symbol of American literature.
Herman Melville quote
This quote comes from Chapter 12 of Moby Dick, describing the harpooner Queequeg. For some context, here's a little more of this Herman Melville quote:
Queequeg was a native of Rokovoko, an island far away to the West and South. It is not down in any map; true places never are.

When a new-hatched savage running wild about his native woodlands in a grass clout, followed by the nibbling goats, as if he were a green sapling; even then, in Queequeg's ambitious soul, lurked a strong desire to see something more of Christendom than a specimen whaler or two. His father was a High Chief, a King; his uncle a High Priest; and on the maternal side he boasted aunts who were the wives of unconquerable warriors. There was excellent blood in his veins—royal stuff; though sadly vitiated, I fear, by the cannibal propensity he nourished in his untutored youth.
If you'd like to keep reading, check out Moby Dick; or The Whale on Project Gutenberg. For a quick Moby Dick summary, check out our post on its highlights—and why it's worth reading.
Moby Dick book poster
Love Herman Melville's Moby Dick? Check out our Moby Dick book poster and read this classic American novel right off your wall!
Recommended For You