Hemingway and Fitzgerald: A Comparison [Infographic]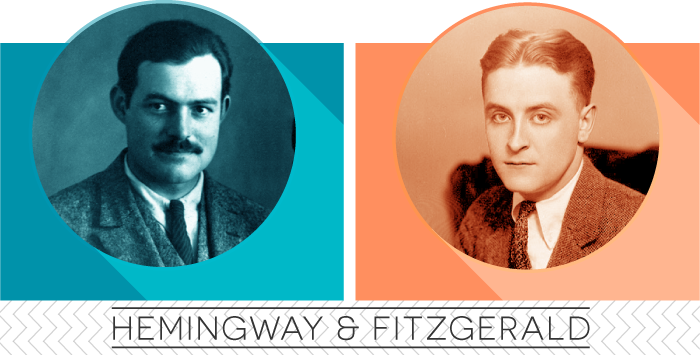 Ernest Hemingway and F. Scott Fitzgerald (who was actually known only as "Scott") are two of the most acclaimed American authors of the last century.
Friends, colleagues, readers, critics, travelers, expats, members of "The Lost Generation"…Fitzgerald and Hemingway shared more than just a knack for the written word. At once the closest of friends and the most jealous of competitors, Hemingway and Fitzgerald led public, tumultuous, and booze-soaked lives—both together and apart.
So let's take a deeper look at these literary frenemies!
Hemingway and Fitzgerald infographic
So how did the life of Ernest Hemingway compare to the life of F. Scott Fitzgerald? We've highlighted some of the main facts in our Hemingway and Fitzgerald infographic below.



For those viewing on mobile, you can find the text contents of the infographic below.
Ernest Hemingway and F. Scott Fitzgerald: Life, Love, & Literature
Ernest Hemingway
F. Scott Fitzgerald
Birth
July 21, 1899 (Cicero, IL)
September 24, 1896 (St. Paul, MN)
Notable Life Experiences

Ambulance driver in WWI, Italy
Journalist in Spanish Civil War
Expat in Paris, "The Lost Generation"

Dropped out of Princeton
Expat in Paris, "The Lost Generation"

First Published Novel
The Sun Also Rises 1926
This Side of Paradise 1920
Marriages
Hadley Richardson, Pauline Pfeiffer, Martha Gellhorn, and Mary Welsh
Zelda Sayre (*Fitzgerald also had many high-profile affairs, including with Lois Moran and Sheilah Graham)
Children
3 sons: John, Patrick, and Gregory
1 daughter: Frances "Scottie"
Major Literary Awards
Pulitzer Prize, 1953 (for The Old Man and the Sea), and the Nobel Prize in Literature, 1954
none
Number of Published Works
7 novels, and 6 short story collections (many more were published posthumously)
4 novels, and many short stories, published individually (many more were published posthumously)
Writing Style
"…lean and sinewy prose; his mastery of a kind of laconic, understated dialogue; his insistent use of repetition, often of a single word, or name…" – New York Times
"…his 'ability to catch the flavor of a period, the fragrance of a night, a snatch of old song, in a phrase'…" – New York Times
Death
July 2, 1961, in Ketchum, ID, by self-inflicted gunshot wound
December 21, 1940, in Hollywood, CA, by heart attack
---
Letters from Hemingway to Fitzgerald
"You see, Bo, you're not a tragic character. Neither am I. All we are is writers and what we should do is write."

-Ernest Hemingway in a letter to Scott Fitzgerald, May 1934
Ernest Hemingway and Scott Fitzgerald often kept up their friendship through correspondence, asking each other for advice or encouragement (or just as frequently, sarcastically mocking one another or being perhaps a bit too brutally honest about each other's work and lifestyle).


Photo: Creative Commons 3.0, Adapted from Wikicommons
These letters are full of interesting insights into Hemingway, Fitzgerald, and their relationship with each other. We can't go into all of the detail in such a short post, but we'd like to share a few highlights from this letter from Ernest Hemingway to Scott Fitzgerald:
Forget your personal tragedy. We are all bitched from the start and you especially have to hurt like hell before you can write seriously. But when you get the damned hurt use it—don't cheat with it. Be as faithful to it as a scientist—but don't think anything is of any importance because it happens to you or anyone belonging to you.

For Christ sake write and don't worry about what the boys will say nor whether it will be a masterpiece nor what. I write one page of masterpiece to ninety one pages of shit.

You are twice as good now as you were at the time you think you were so marvellous. You know I never thought so much of Gatsby at the time. You can write twice as well now as you ever could. All you need to do is write truly and not care about what the fate of it is. 
Hemingway's take on Zelda Fitzgerald
As evidenced in the same Hemingway letter above, another cause of discord in Hemingway and Fitzgerald's friendship was Fitzgerald's wife Zelda. Zelda hated Hemingway, who in turn accused Zelda of distracting Scott from his writing. Hemingway described Zelda to Scott as "someone who is jealous of your work, wants to compete with you and ruins you."
In a later letter in 1950, Hemingway was even more critical of Zelda and her influence on Scott:
I think Scott in his strange mixed-up Irish catholic monogamy wrote for Zelda and when he lost all hope in her and she destroyed his confidence in himself he was through.
These letters, many of which have survived and been compiled into volumes, shed light on the complex friendship that Hemingway and Fitzgerald shared.
Popular magazine writing
Both men at various times in their lives, usually due to financial strain, wrote stories and sold them to popular magazines. Both were fairly ambivalent about this type of work, but Fitzgerald especially felt that it cheapened their work to the point of "whoring" themselves out. In a letter to Hemingway, he describes a popular magazine Hearst's like so:
You were wise not to tie up with Hearst's. They are absolute bitches who feed on contracts like cultures, if I may coin a new simile.
Because Hemingway reached critical acclaim and financial success during his lifetime, he did not have to sell his short stories for very long.
Fitzgerald, on the other hand, had legendary financial troubles stemming from his alcohol abuse, lavish lifestyle, and medical bills related to Zelda's mental health treatment. Despite his sense of embarrassment at the job, Fitzgerald worked as a scriptwriter in Hollywood in his later years.
Fitzgerald and Hemingway: Afflicted yet enduring talents
F. Scott Fitzgerald's legacy
Unfortunately for F. Scott Fitzgerald, his legacy lives on as much in his obvious alcoholism as in his literary talents. While The Great Gatsby is taught in high schools and universities across the English-speaking world, he is perhaps most known for his descent into alcoholism and for his troubled relationship with Zelda.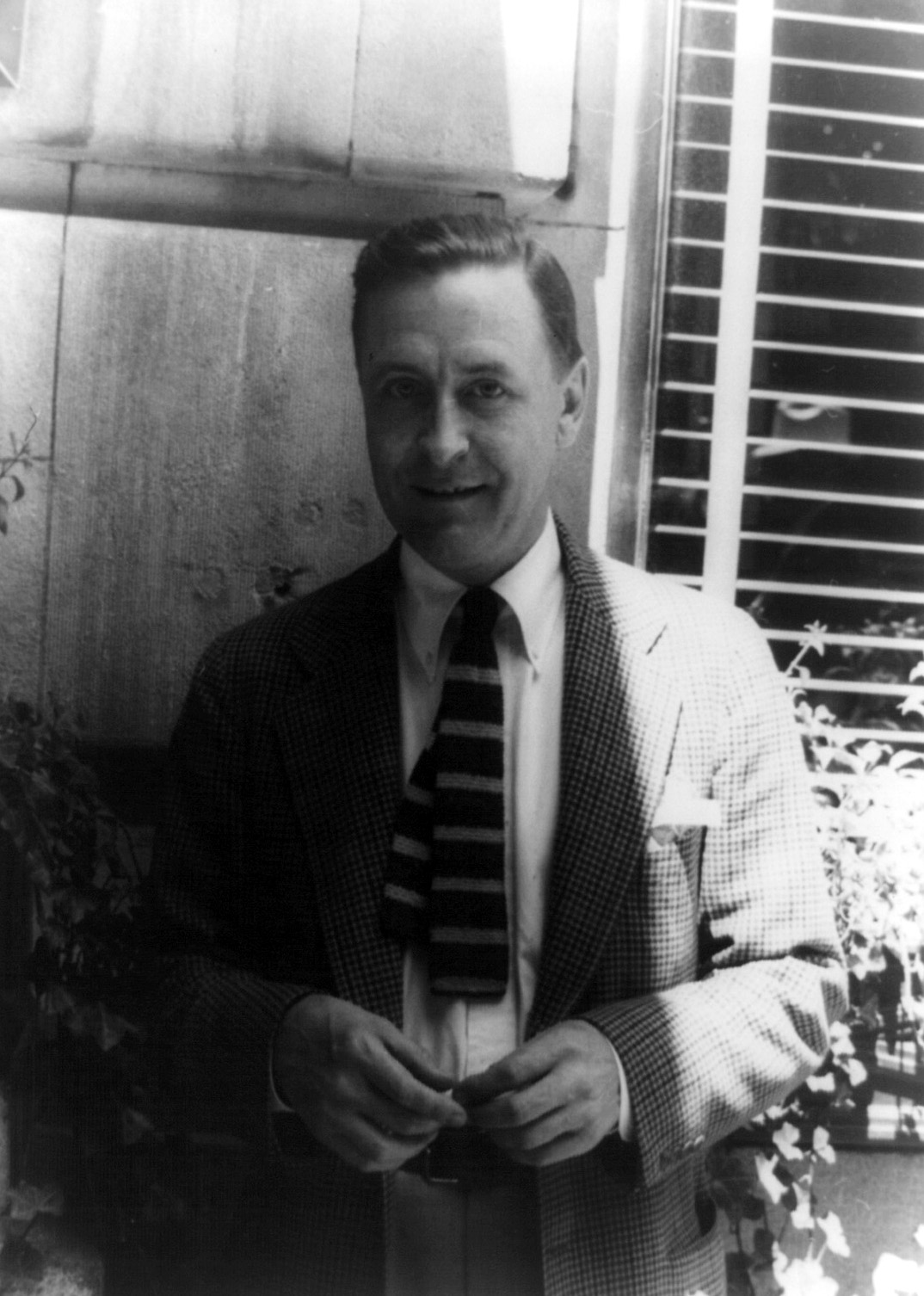 Photo: Public domain, Wikicommons
Though This Side of Paradise was an immediate success, Fitzgerald's later works were not nearly as appreciated during his lifetime.
As The New York Times wrote in his obituary:
Mr. Fitzgerald in his life and writings 'epitomized 'all the sad young men' of the post-war generation . . . The promise of his brilliant career was never fulfilled.
Fitzgerald died of a heart attack in 1940, without ever having won a major literary award.
Ernest Hemingway's legacy
Unlike Fitzgerald, Ernest Hemingway maintained a high level of critical and popular acclaim throughout his lifetime. His hard, lean prose and short, declarative sentences make his writing style among the most immediately recognizable in the world.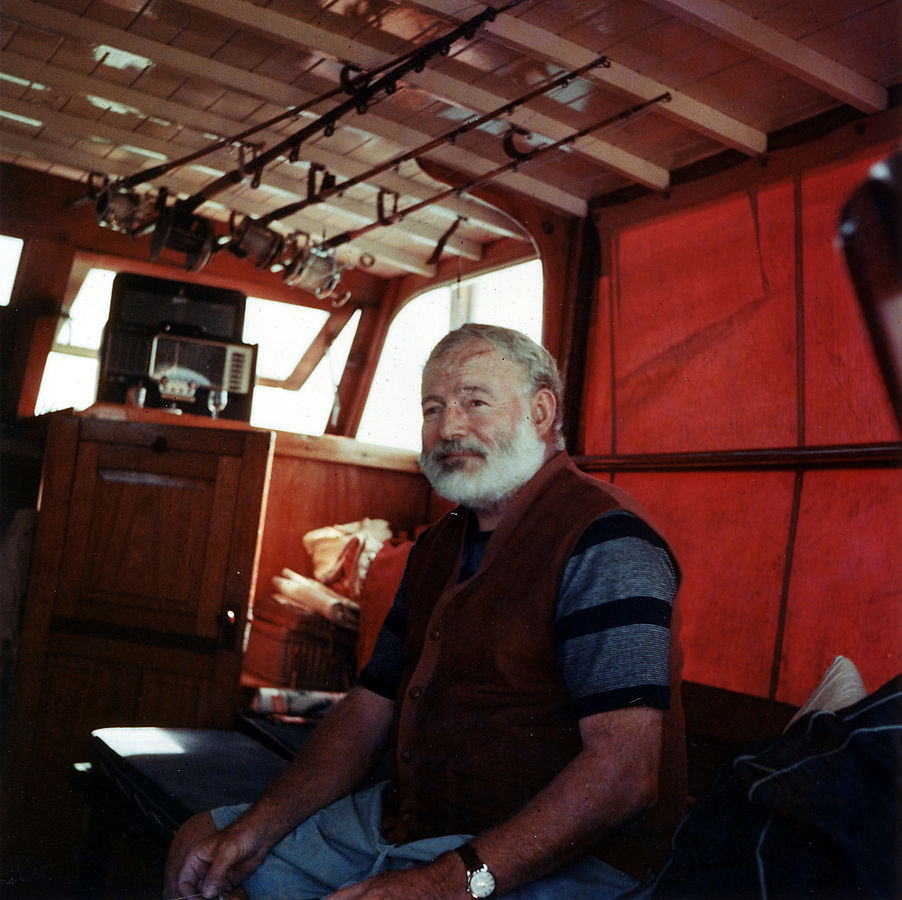 Photo: Public domain, Wikicommons
But Hemingway's fame was not only a result of his literary successes. In fact, more than anything, Hemingway made himself into a legend as the living embodiment of his ideals of raw adventure and real masculinity.
Hemingway's way of writing was also inseparable from his physically vigorous subjects, such as war, hunting, fishing, and bullfighting.
Ernest Hemingway won the Pulitzer Prize (for his novella The Old Man and the Sea) and the Nobel Prize for Literature. He died in 1961 of a self-inflicted gunshot wound.
His clear, direct wordings and spare sentence constructions have even inspired the Hemingway app, a tool to help writers simplify their work.
Hemingway and Fitzgerald in pop culture
Midnight in Paris
Ernest Hemingway and F. Scott Fitzgerald (and Zelda) make an appearance in Woody Allen's 2011 movie Midnight in Paris. Ernest Hemingway's character speaks in in the author's characteristically short, lean prose, while Scott Fitzgerald exhibits his lavish lifestyle and marital troubles with Zelda.
The Curious Case of Benjamin Button
Did you know that the 2008 movie starring Brad Pitt was based off of a short story that F. Scott Fitzgerald wrote in 1922?
You can read Scott Fitzgerald's original short story "The Curious Case of Benjamin Button" on Project Gutenberg's Tales of the Jazz Age.
---
If you love the work of F. Scott Fitzgerald, check out our full-text book poster of The Beautiful and Damned.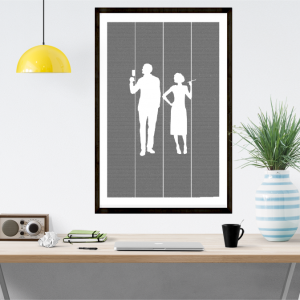 Recommended For You