Words Wednesday: Elizabeth Gaskell
It's time for another Words Wednesday! Today we're featuring one of our favorite Elizabeth Gaskell quotes.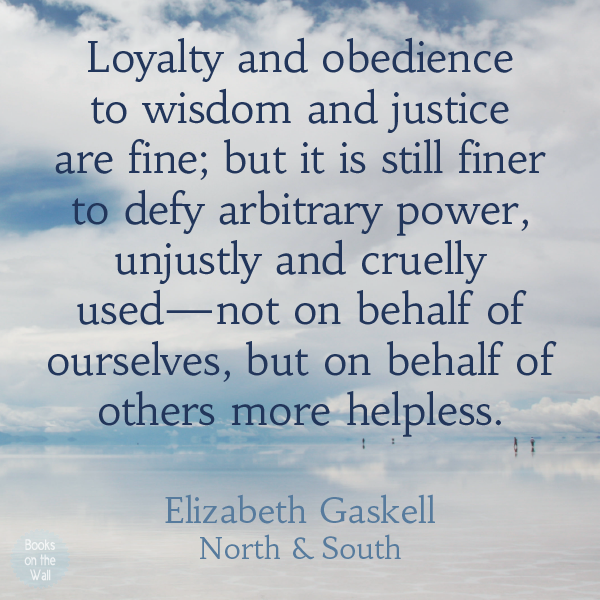 North and South Book (1854)
This quote comes from Elizabeth Gaskell's acclaimed novel North and South. Gaskell's third novel, North and South was originally published in serial form in Charles Dickens' literary magazine Household Words from September 1854 to January 1855.
Like many Victorian novels, North and South is a social novel that sought to expose the plight of the working poor in England. The novel follows the main character Margaret Hale as she moves from the tranquility of the rural South to a cramped, dirty, and rapidly industrializing mill town in the North. Margaret is forced to face her own prejudices as she points out the prejudices of others.
As this Elizabeth Gaskell quote highlights, much of the novel deals with themes of authority and power. When is it right to accept authority, and when it is right to rebel? What are the consequences of accepting and rebelling? What obligations, moral or otherwise, do people have in correcting the misuse of arbitrary power?
"Loyalty and obedience to wisdom and justice are fine; but it is still finer to defy arbitrary power, unjustly and cruelly used—not on behalf of ourselves, but on behalf of others more helpless."

-Elizabeth Gaskell quote from North and South
North and South on BBC (2004)
In 2004, BBC released a four-episode miniseries adaptation of Elizabeth Gaskell's North and South. Check out a fanmade trailer for the series:
We haven't seen this series, but it's definitely on our list!
For more of Elizabeth Gaskell's acclaimed novel, check out the full-text of North and South on Project Gutenberg.
Recommended For You